Grazing-Based Viticulture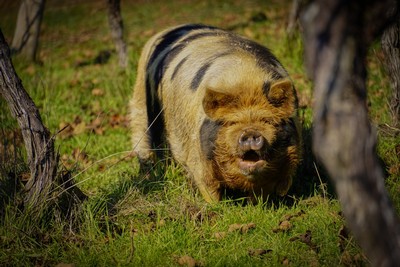 Kune Kune (pronounced Koonie Koonie) means "fat and round" in Māori, the native language of New Zealand. The pigs spend their days leading our grazing rotations with the sheep. Their smaller stature, exceptional grazing ability, and gentle, friendly disposition make this breed our swine of choice for the vineyards.
They have short, upturned snouts that keep them from rooting effectively, which greatly reduces the amount of soil disruption and tends to confine it to the areas under the vines. Their grazing complements that of the sheep, as the two species mitigate parasite and pest loads for each other, and their droppings contribute a unique biological signature and a valuable inoculum to the vineyard microbiome. This creates a broader spectrum of life and diversity that further fuels the development of personality in our wines.

We've found these pigs have a special bond with our livestock guardian dogs, and they enjoy playing and sleeping with them. It's a funny sight to watch a fat porker attempting to whip up a frolic with a pack of Maremma puppies. Our Kune Kunes perform well on a pure forage diet at our farm for about eight months of the year with supplementation of organic alfalfa during the winter months. They also supplement seasonally with wild acorns, hazelnuts, windfall apples, mushrooms, and garden clean-up duties.
Join Our Mailing List
Keep up to date on the latest wine releases and happenings at the Farm.